Bollywood
Shah Rukh Khan
The song BLEW our minds away…and how!
When we were disappointed with Dilwale, and wondered if we can get to see Shah Rukh Khan back in his ol' glory when he used to do original characters and not pale imitations of his superstar persona, we got to see one of the most amazing songs in recent times…and all we can say is, SRK is BACK IN STYLE!
In Fan, the actor has a double role, where he plays a fan of his own superstar image. Gaurav is like many of us, the one who bashes the writer of the piece if he/she disses their favourite actor, the one who make sure his favourite star is trending on Twitter even if he/she has nothing special that day seriously! The Fan anthem show his crazy love for superstar, Aryan Khanna, in what can be said a love poem to our favourite star!
After watching the Fan Anthem, here are 5 reasons why we feel that this SRK film could be the BLOCKBUSTER movie of this year!
The first time an actor playing a fan of himself shows how crazy he can be about himself!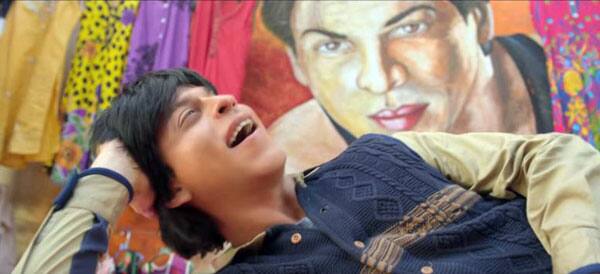 Never in the history of Indian cinema (as far as I can remember,…and I think I have seen plenty of them), has an actor played his own fan! SRK haters can say this film is more of a self-promotion, but if you really observe the end of the trailer or the song, you can see that when the name of the film, Fan, is shown, it has cracks on it. Therefore, we are sure that the film will definitely have darker themes related to fan-star relationship, and red hue to the title doesn't bode well with a happy film! Anyways, coming back to the topic, not only is he a huge fan of his own real-life screen image, he is crazily mad about himself! If you listen the lyrics for the first time without seeing the video, we won't blame you if you find it to be a romantic song!
"Mirror mein tu dekhta hai…Neend mein tu tik tha hai…Tere madness mujhe dhet kar diya!"
SRK has always been in love with his image…and this song is a HUGE proof of that!
That grounded, earthy feeling!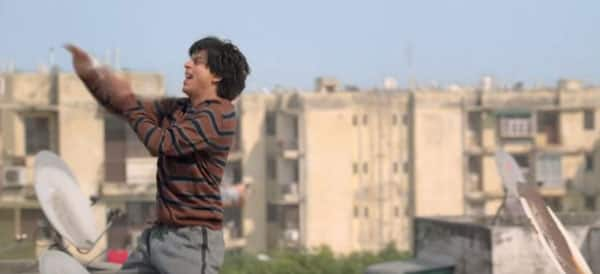 In the recent times, Shah Rukh has always been known for larger-than-life films like Happy New Year and Dilwale, which, however, were alienating the star from his fans. On the other hand, Salman Khan came up with Bajrangi Bhaijaan last year, which his character was so grounded and earthy which clicked with the audiences and made the film a blockbuster! With the lukewarm response that Dilwale has got, we are really glad that SRK is back to the playing those less glamorous roles, the ones we played in Chak De India, Swades, Kabhi Haan Kabhi Naa, that had endeared him to his fans! If you observe the locales in the songs, they are just the kind of localities we commoners live, and not those swanky flats, which only heroes in movies can afford! That's something a common will instantly strike a chord with! After all, SRK himself said in Chennai Express, 'Don't underestimate the power of a common man!'
Those wacky, crazy moves…
We have been tired of heroes dancing to perfectly synchronised movies, with background dancers joining them out of nowhere! Fan anthem takes a different route, with SRK's Gaurav dancing like one of us, after downing two Patiala pegs! This is one of the main reasons why we got so hooked to the song in the first place! Those dance movies are proof enough that Gaurav will be a character just like one of us, who doesn't have the perfect abs or dances like a dream! We are just dying to see ourselves in the role!
How the f@#$ did he become so thin?
…That's one question everyone is asking! Though we are still taking time to adjust with his facial makeup, it's his 'thin' body that has everyone talking about! Was it all VFX, or did he really go all 'Christian Bale from The Fighter' on us? SRK has always been accused of not experimenting much with either his appearance or his roles so this will definitely shut the mouths of his detractors!
…This is a song that celebrates the fan more than the star!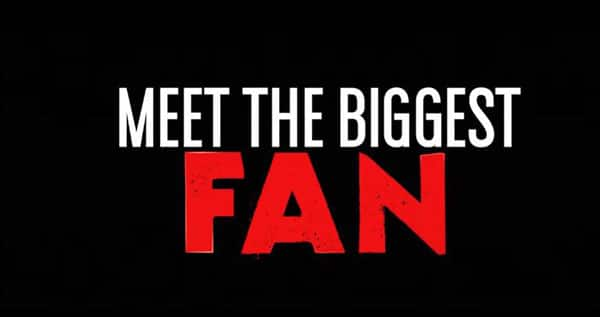 One thing that we always forget is that it's the fans who make the stars, and without them, you are just an actor working for your stomach! The Fan anthem finally puts a face to these wonderful creatures, and music to their quirky madness! Haven't we always heard of fans writing letters in blood to their favourite stars, running away from their homes just to meet their favorite actor? Why do people still stand outside Prateeksha, Galaxy Apartments, Mannat for hours just to meet their fave stars? After seeing that song, we are definitely sure that the movie will finally show us the reason for this madness!
Wishing SRK and the entire team of Fan all the very best